Upload any file such as Word or PDF documents to your website.
Navigate to Website > Manage > Files.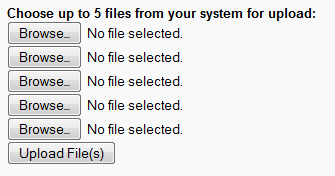 Select one of the Browse buttons to upload a file / document (jpg gif pdf etc.). Locate the file on your computer and click Open. (When uploading video files, please make sure they are either in a .avi, .mov or .wmv format.) Up to 5 files can be uploaded at a time. Select Upload File(s). A status pop-up will appear. When completed, click 'Close'.
The file(s) will appear in the website's personal folder. To make the files accessible to online visitors, create a hyperlink from text or images. To create a link, refer to Creating a Link.