This section of Arranging Director allows you to print invoices for any outstanding payments.
Navigate to System Settings > Financials > Invoices.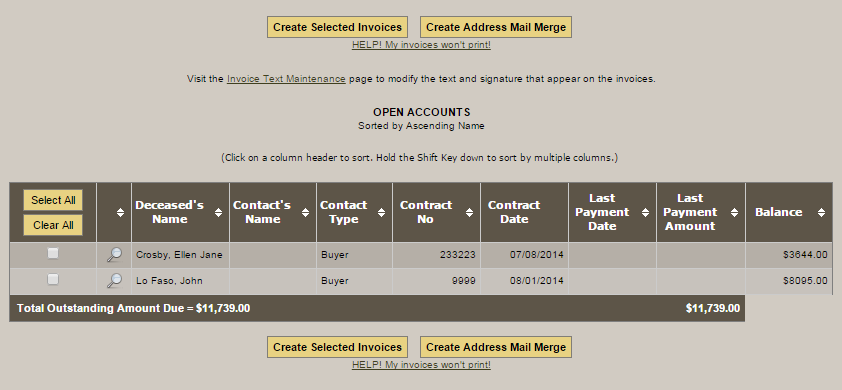 Check the boxes next to the invoices you wish to print and click the 'Print Select Invoices' button. This will generate a PDF letter for each client which you may print using your browsers Print function. The list of individuals are the Buyers for each client and any additional contacts defined to receive invoices. The possible additional recipients are setup and maintained under each client's Contact tab.
The text of the invoice letter is based on the age of the last payment on the account. You can modify your text, as well as the signature line, via System Settings > Data Setup > Invoice Setup or by clicking the" Invoice Text Maintenance" link on top of the page. After the text of the letter each invoice will include an account summary.
You may define the format of the header of the invoice letters to print the address so that it will be visible in a standard two-window envelope or for use with a plain front envelope. You define the layout setting under System Settings > Data Setup > Invoice Setup. Make your selection from the drop down for "Type of Envelope Used for Mailing".