This section of Arranging Director allows you to set up whether to restrict financial data editing or not.
Navigate to System Settings > Arranging Director Admin > Financial & Quickbooks Setup and Maintenance > Financial Data Editing Control Setup.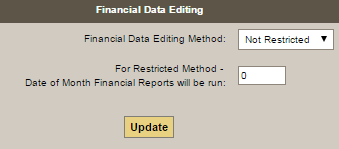 Restricted Financial Data Editing:

'Not Restricted' allows client contract information to be edited at any time.
'With Restricted' Editing – define a cutoff date and any contract edits made after that date must be made as an Add On.


← Financial & Quickbooks Setup and Maintenance Set Last Check or Deposit Number Used →