Facebook is a great tool for individuals, businesses, organizations, and brands to share their stories and connect with people, including potential clients.
Facebook Pages, like timelines, can be customized by adding apps, posting stories, hosting events, and more. Engage and grow your audience by posting regularly. People who like your Page and their friends will see updates in their News Feeds.
You can create a Facebook page through your personal account.
Facebook Integration
Funeral homes can easily post online obituaries to their Facebook Page through the Book of Memories with minimal set-up required. This will allow anyone who has liked your Facebook Page to view your recent services and connect to their Book of Memories on your website to read the full obituary, service details, leave condolences and also link back to your funeral home website. This is particularly helpful in communities where local newspapers don't publish every day and you want to be able to connect with your community at large faster.
Connect Your Facebook Page
Main > Book Of Memories > Facebook Page Management > Manage Facebook Pages
1. Under the section Manage Facebook Pages, select the Manage your Facebook pages to begin.

2. A new window will open with your Facebook account logged in. If you are not already logged in, please log in now.
3. You will be prompted with a couple of permission notifications. To proceed, please follow the prompts:
Prompt 1: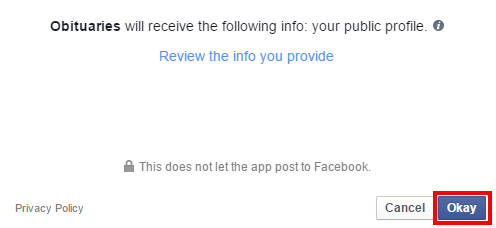 Prompt 2: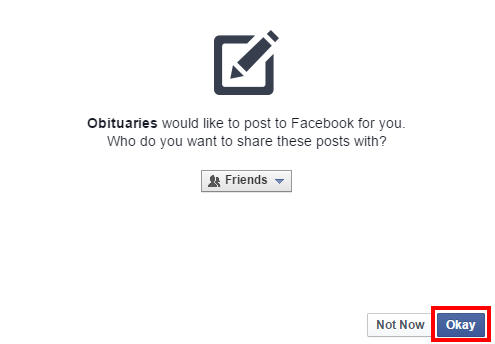 Prompt 3: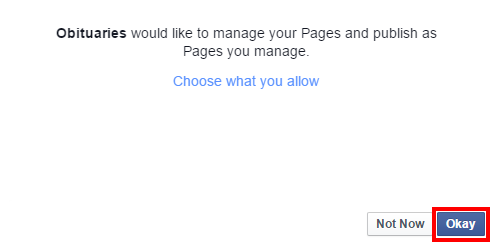 Prompt 4: If you have multiple profiles attached to one account (Personal & Business Pages), you will be asked to select which Page you would like to connect to. Use the dropdown for Page Options to select your Business Page.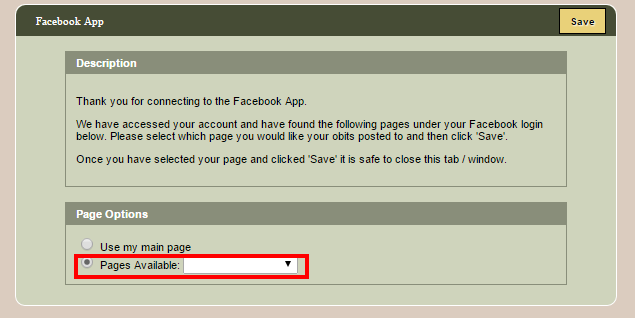 Disconnect your Facebook Page Account
Should you need to disconnect and unlink your Facebook Page account, select the Unlink your Facebook account. We have also provided a Troubleshooting help section under the Unlink Facebook Account section.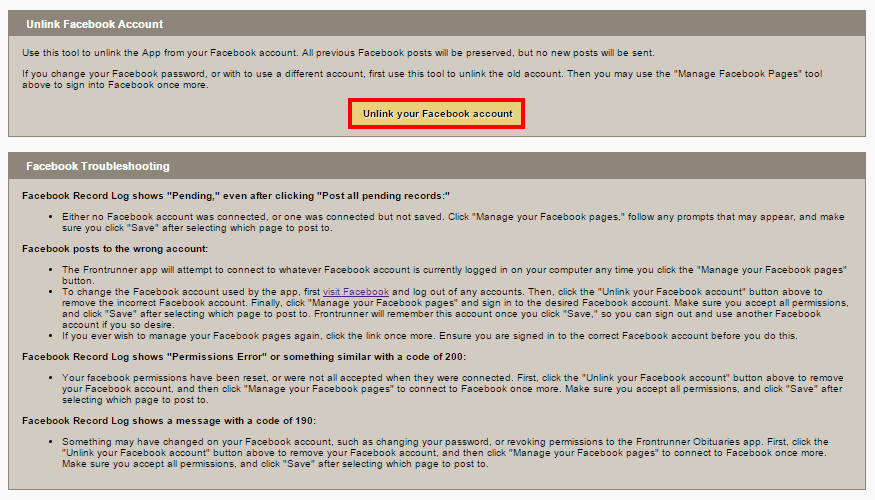 Post Obituary to Facebook
Web Only & Standard Record: Click Here to Push Obituaries to Facebook
Facebook Record Management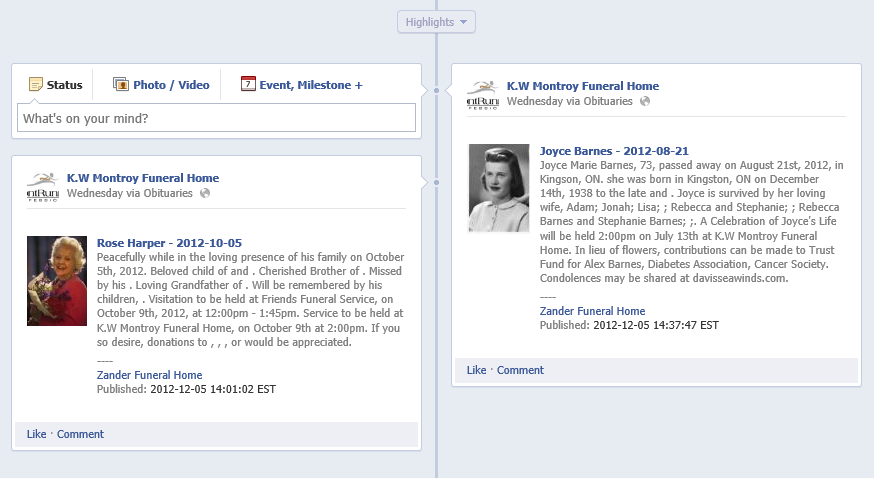 To update an obituary already posted to Facebook, delete the record from your Facebook page and then go to Main > Book Of Memories > Facebook Record Management. Click the Re-Post button to the right of the record.

If you have a Twitter account and would like your obits to push to it as well, download the Twitter app from your Facebook account. Anything that is posted to Facebook will then post to Twitter.