Navigate to System Settings > Print Engine > Manage Text/Prayers.
Before building prayer cards/poems, you must scan the item (ie. prayer card) into your computer and save it as a .jpeg. It is important that your scan is as straight as possible. Once scanned into your computer, you can then upload it into the FrontRunner system.
Step #1 – Select the New button.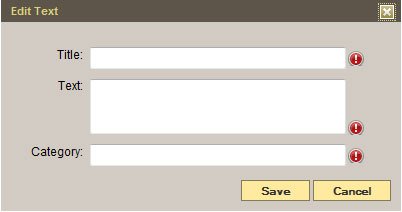 Name – Enter the title of this prayer/poem.
Text – Enter the prayer/poem.
Category – Enter the category for this prayer/poem. Example: Catholic, Protestant, United.
As you type, it will pull a list of category names you have already entered. If this is a new category, once you enter, it will be remembered for next time.
Step #2 – When complete, select the Save button.
To edit any prayer/poem added to your library, simply click the Edit button.