This section of Arranging Director allows you to reconcile or balance your account.
Navigate to System Settings > Financials > Reconcile Account.
When you choose to reconcile, or balance, your account you will be presented with the following screen: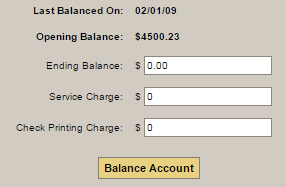 Select 'Balance Account' after you enter the appropriate data.

If you Opening Balance or Last Balanced On date is incorrect you may modify it under System Settings > Arranging Director Admin > Set Account Last Reconciled Date and Current Balance.
Check the boxes in the "Clear" column for each transaction. The running totals will update as you select transactions.
You may edit or delete transactions and also view the full details of the transactions.
You may add new deposits and checks during your reconciliation without losing your progress. To postpone your reconciliation until a later time click the 'Postpone' button and your progress will be available when you return to finish your reconciliation.
Click 'Balance Complete' when you are done.