Body Release Status
Select whether the body has been released and is ready to be picked up.
Personal Effects
Personal Effects – Separate each with a comma.
Clothing Special Instructions
Jewellery Being Supplied.
Jewellery Being Returned
What and to whom – Enter what jewellery will be returned and to whom.
Photos Provided
Photos Returned
Video Provided
Check List
These fields will be populated if information was entered in the First Call fields.
Donations
There are three donations options: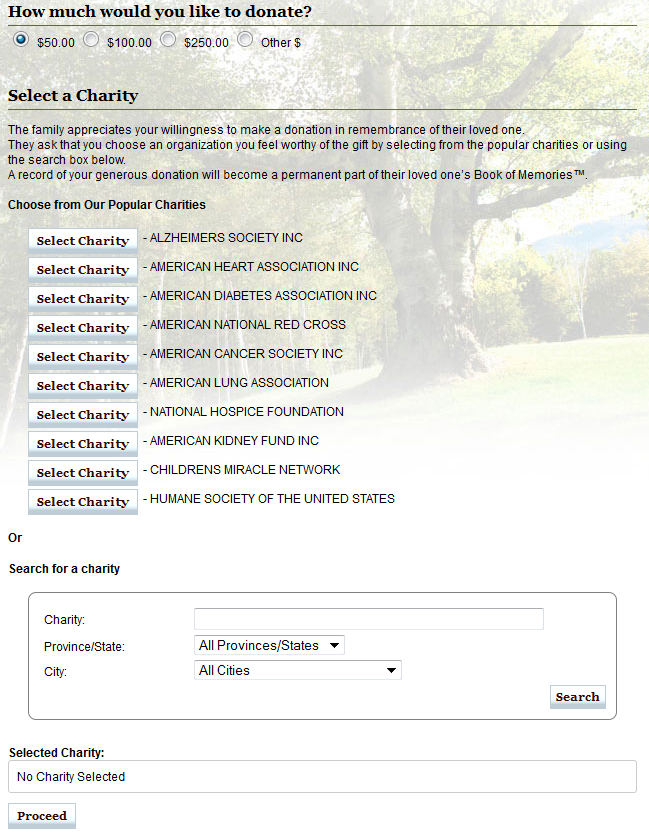 Family Preferred Charities:

Select from Frequent List: Once list is built, click the 'Add to Preferred Charities' to select for this record.
Select from Master Database: These are all registered charities and only accept payments by credit card. Use the search bar to find a charity then select the 'Add to Preferred Charities' button. If the charity is frequently chosen, 'Add to Frequent'. This will eliminate the need to search for a particular charity every time when creating records. Note: Use the dropdown for State/Province and City to narrow your search. Note: Local chapters of particular charities may not be included in the database.
View Charities Selected: Lists all charities designated as preferred charities for this record.
Non-Charitable Organizations: All non-registered charities added to your Charities Database. Select and then 'Add'.


No Donations: The charitable donation option within Book of Memories is unavailable.
Display to Donor: Charity of your choice: Donor can choose to donate to any charity in the deceased's name. (Create a frequent list in the system to provide online visitors with a few ideas about local and popular charitable organizations.)
Family Interactive Edition
The system automatically generates a Family Username and Family Password. (Both can be changed to what the funeral home or family prefers.) This allows the family to login to their loved one's Book of Memories to view private condolences and flower cards, change the theme, approve any photos or stories (if the approval process is turned on), upload photos, share stories, and send e-thank-you cards to anyone who signs the guest book.
Family Interactive and Condolence Email List: Add the email addresses of any family members who would like to receive the family login information (and future login changes) and all condolences. If there is more than one address, click 'Add E-mail.' The condolences are sent once a day to email addresses entered. (All condolences are filtered for any inappropriate words.)