This section of Arranging Director allows you to set the starting balance and last reconciled date for use with account register information.
Navigate to System Settings > Arranging Director Admin > Financial & Quickbooks Setup and Maintenance > Set Account Sort Order, Last Reconciled Date and Current Balance.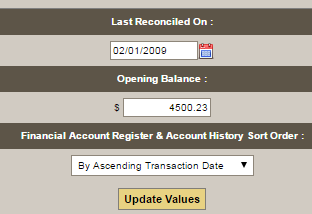 Enter the last reconciliation date, the opening balance, how to sort, and click 'Update Values'.
← Set Last Check or Deposit Number Used Expense Category Maintenance →