A Basic Record includes most of the information that is required for the online tribute. Once it's created, the information can be accessed on the website and the Book of Memories.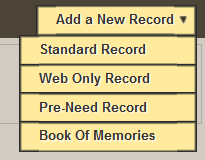 Create a Record
Navigate to Main > Records. Hover over the 'Add a New Record' button at the top right. For a basic record, choose either Web Only (families you have served) or Book of Memories (families you have not served).
Basic Information
Branch: Select which branch, if more than one company location, is managing the service.
Publish to Web: Once saved, the information will automatically publish to the website.
Current/Past: Force to be current if, for example, a person passed away six months ago but the memorial takes place tomorrow. The record appears as a current service on your website. Note: change the status back to 'Automatic' following the service otherwise it will remain current forever.
Enter the remaining basic information
Video Link:

URL

of a third party company's video tributes.
Webcast Link:

URL

of a third party company's webcasting.