The Business Directory Module quickly generates a listing for businesses in your area. The professional directory can include a description of the businesses, contact addresses, phone numbers, emails and external websites.
If you require a new page, refer to Create a New Page.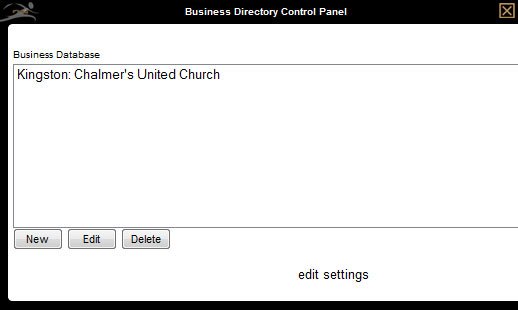 This module includes header and/or footer editing capabilities.
Select the 'Edit Content' button.
New – Create a new business listing.
Edit – Edit an existing business listing.
Delete – Delete an existing business listing.
Edit Settings – Change the options for this module.
Edit Settings
Inherit database from – This allows you to use the data from an existing Business Directory. It will appear with the same name used for the menu item.
It's not possible to add or remove entries from an inherited directory; changes must be made to the original directory.

Listing Type – Three types of listings are available:
By Location – Will display all business listings in a particular location (city) below each header.
By Category – Will display all business listings in a particular category below each header.
Alphabetically – Will display all business listings in alphabetical order.
List Specific Category Only – Only those businesses within the designated category will be listed. This is useful when creating a new page using an inherited Business Directory database, and listing a specific category.
Order of Cities – Arrange the order that city headers are displayed.
Add a Business
Select the 'New' button and enter the business name.
Choose a category for this business (optional) if the listings will be sorted by category. If you do not see a specific category required, leave the drop down blank and enter the new category name directly underneath the drop down.
Enter any pertinent company information.
Enter a more info page (optional) to add more information about this company. This create a 'more info' link that opens a pop-up window containing the additional information.
Add a thumbnail picture (optional) to add a company logo.
When complete, select the 'Save' button.