These fields will be populated if information was entered in the Consultation fields.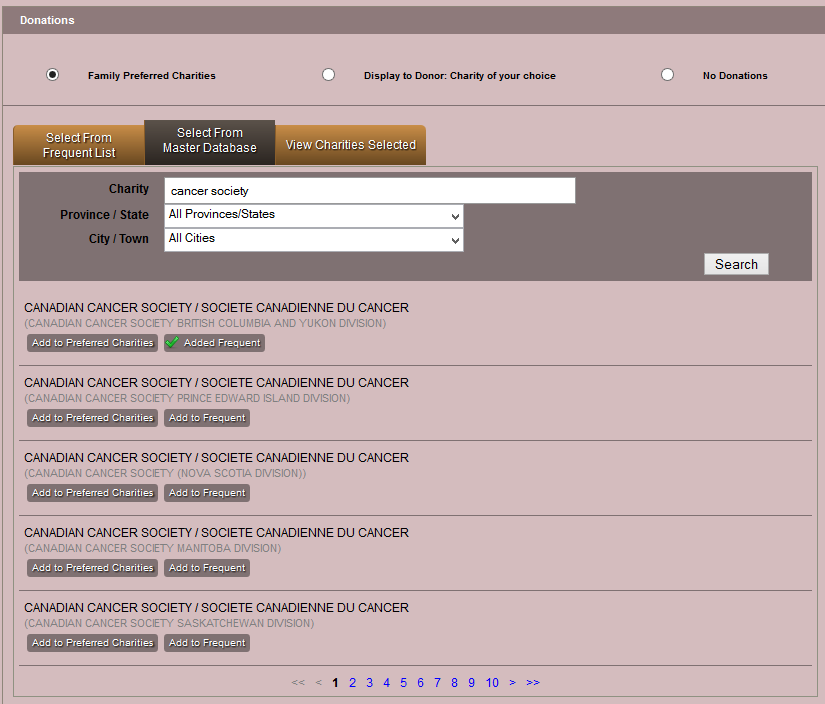 There are three donations options:
Family Preferred Charities:
Select from Frequent List: Once list is built, click the 'Add to Preferred Charities' to select for this record.
Select from Master Database: These are all registered charities and only accept payments by credit card. Use the search bar to find a charity then select the 'Add to Preferred Charities' button. If the charity is frequently chosen, 'Add to Frequent'. This will eliminate the need to search for a particular charity every time when creating records. Note: Use the dropdown for State/Province and City to narrow your search. Note: Local chapters of particular charities may not be included in the database.
View Charities Selected: Lists all charities designated as preferred charities for this record.
Non-Charitable Organizations: All non-registered charities added to your Charities Database. Select and then 'Add'.
Display to Donor: Charity of your choice:
Donor can choose to donate to any charity in the deceased's name.
No Donations:
The charitable donation option within Book of Memories is unavailable.