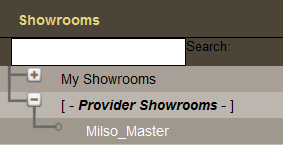 Navigate to the Kiosk tab.
​If you are a Canadian client of FrontRunner Professional or wish to build your own showroom from scratch, click 'Add' at the top right. If you are a Matthews client, there is a pre-built and editable showroom available.
There are 2 categories on the left:
My Showrooms – These are the showrooms created by you.
Provider Showrooms – These are Matthews pre-built showrooms.
Use the + to expand the Provider Showrooms category and select the Milso Master showroom. The showroom will load on the right. Select the Copy This Showroom button.
A message will appear "Are you sure?" Click yes. The copied showroom will load under My Showrooms with the date it was added. Click on your showroom.
Replace the name – ex: 'Funeral Home Name' Showroom. Enter a keyword related to this showroom to set up a new Showroom Domain. Ex. showroom will produce the domain: "showroom.yourcompanyname.frontrunnerpro.com", which can be opened on any computer.
Users
Select the + to add a User. ​Create user name, password, first & last names, and an email address. Click on the green save icon.
​When all Users are added, click on the Save button at top right.
← Create / Edit Your Virtual Showroom Edit a Virtual Showroom →