This section of Arranging Director allows you to mark cash advance items paid by anything other than a check/cheque.
Navigate to System Settings > Arranging Director Admin > Financial & Quickbooks Setup and Maintenance > Cash Advance Maintenance – Other Payment Methods.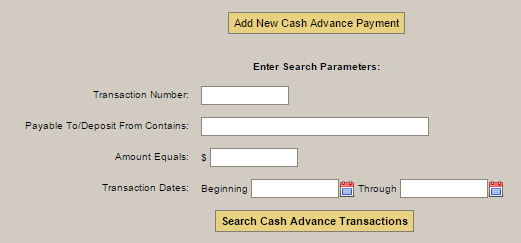 If a cash advance transaction was paid with some means other than a check, enter it using this screen. These transactions will be included in the Cash Advance Reconciliation feature.
Enter the transaction number, text that contains who it is payable to or deposited from, amount, dates, and click 'Search Cash Advance Transactions'.
← Edit A Transaction (includes Archived) Management System Features →