There are two ways to add a new client using the Arranging Director. From the top menu, choose one of the following:
Arranging Director > Clients > Add New Client.
Main > Records > Add a New Record (button at top right of screen will direct you to Add New Client)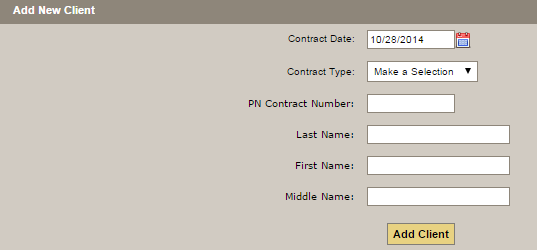 Once either option is selected, enter the information as described below and click on 'Add Client'.
Contract Date: Click on the calendar icon to change the date, if necessary.
Contract Type: Choose either At Need or Pre-Need
AN/PN Contract Number: Click on 'Last Entered AtNeed?' or 'Last Entered Preneed?' to reveal the most recent contract number entered. This will allow you to create a sequential number.
At Need Service Date: Click on the calendar icon to select a date and check the Estimated box if the date has not been confirmed.
Last, First, and Middle Names
Click on the 'Add Client' button. Once the client has been added, the contract will be accessible through any of the search mechanisms on the Active Clients or Client Search pages.