Quickly add a new page to your website.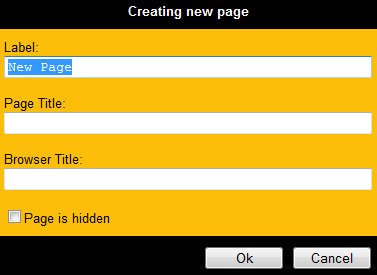 Navigate to Website > Manage > Site Map.
An ADD link is found within each section of the Site Map. Click on any of the arrows to show the child pages/sub-pages to locate the section where the new page will be created. Click the ADD link at bottom of that section. A pop-up will appear. We suggest filling in the following fields to improve your website's search engine performance.
Label – page name – word(s) visible within the menu.
Page Title – is normally displayed above the main text on a web page. It's recommended that the title is different than / expands on the label name. This will help with your Search Engine Optimization as well as all Quick (keyword) Searches on the website. If, for example, a page Label is 'Directions', the Page Title could be 'Directions to 'Funeral Home Name'.
Browser Title – is displayed along the top left of the web browser. It can describe the page content and include important keywords to help with the website's Search Engine Optimization. The Browser Title is also indexed by FrontRunner Professional and is used by the Quick Search keyword functions on the website.
Click Ok.
Once a page is added, it can be moved anywhere in the navigation including Floating Pages*. Use the arrows to expand the menus and find the spot where the page will be located. Click on the 'Move' button beside the page to be moved. Click on 'Move Here' where the page needs to be located. Save.
*Floating pages are not contained within the regular navigation. For visitors to access a floating page, it must be linked from another page/source. To learn how, refer to the Creating a Link section.